Yonge & Eglinton Condo Market
Performance By Home Type From August 2019 and August 2020.
A quick review of how Condominiums performed compared to Townhomes, Semi-Detached, and Detached homes.
Going into January 2020 the area saw robust demand for all home types with a particular interest in Condominiums. This was mostly attributed to the rise in single-family residential semi-detached and detached home prices making affordability just outside of reach. For this segment and others, the Townhouse market was by default the next best choice.
As the chart shows 2-Storey detached homes in the area grew by 12.1% and outpaced all the other home types.
On the opposite side of the spectrum, we see Condomiums price value rose 3.2% over the same time period. This rate of appreciation is below the municipal rate of appreciation when directly compared.
You may think this is not a great situation if you currently own a condominium or plan on buying one in the area and are concerned about appreciation. This is best answered in understanding the data. As semi-detached and detached homes have risen (see chart below) the impact has driven this segment of potential detached homebuyers out and shifted towards looking at a more affordable solution...condominiums.
In addition, the impact of Covid-19 created a greater difficulty for condominium owners who wanted to sell during March 2020 to September 2020. Many of the area condominiums and their Board of Directors put in place measures that prevented the use of elevators for moving, no open house hosting and showings permitted - online-only, restricted building access to residence only, limited or no access to building amenities for inspection, along with other measures as implemented by each individual condominium. This created a more difficult environment for both sellers and buyers as compared to townhomes, semi-detached, and detached homes where safety measures could be put in place.
While inventory was down across all home types, it was particularly noticed in the condominium sector.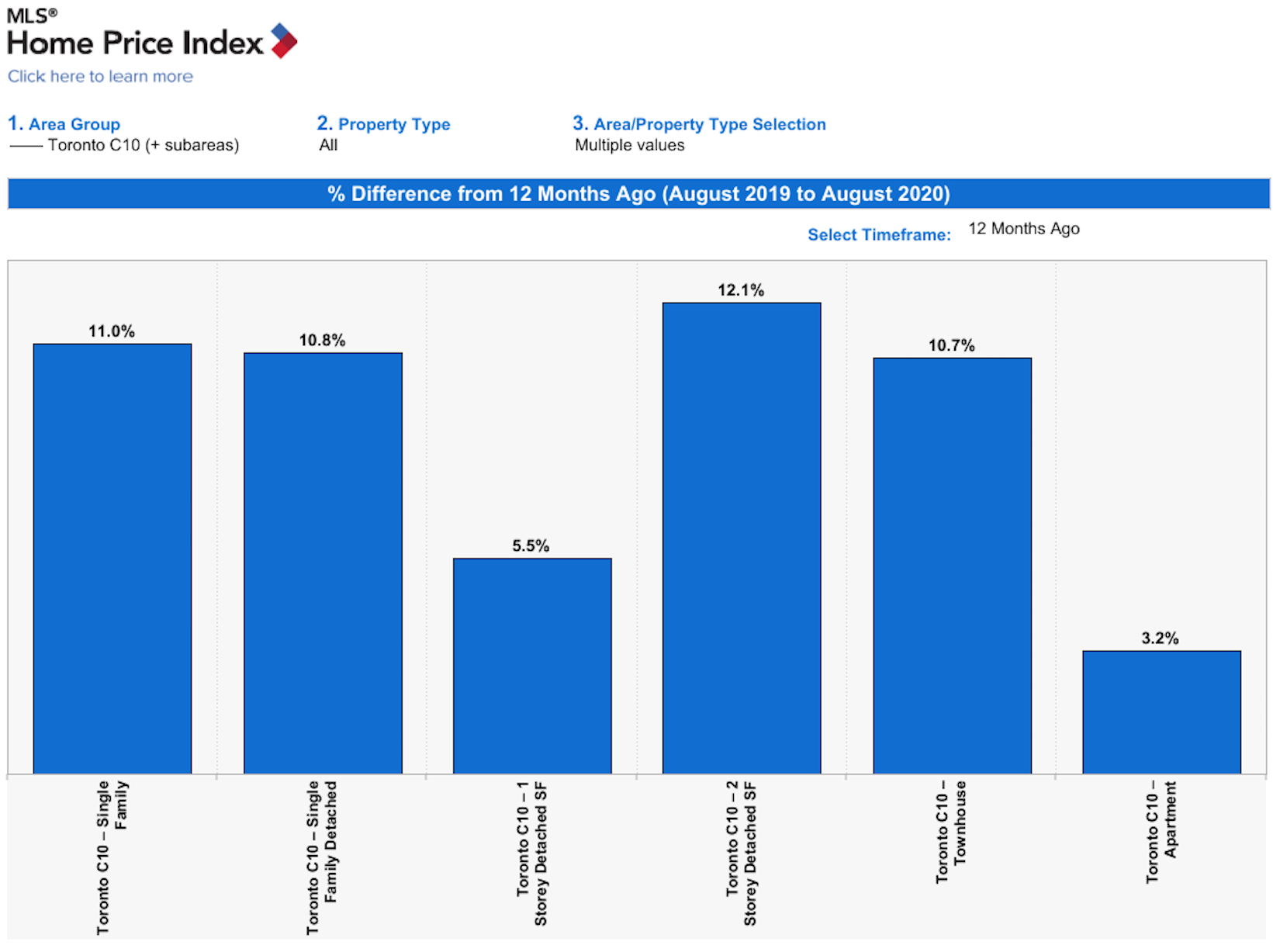 Condominium Benchmark Price By Timeframe
Taking a closer look at condominiums specifically we can see that the area has been a great investment and opportunity to live within a vibrant community while building your wealth.
5 years ago the average price of a condominium (that is all types in all prices ranges including all bedrooms, etc.) was $475,000. This rate of price appreciation, over the same time period, represents an increase of 54%
6 months ago at the peak of Covid-19, the average price for a condominium in the community was $734,100.
The good news is that despite the limitations on condo selling and home buying placed on the condominium segment, they have maintained their value from the same 6 months ago and are up marginally from a year ago at 3.2%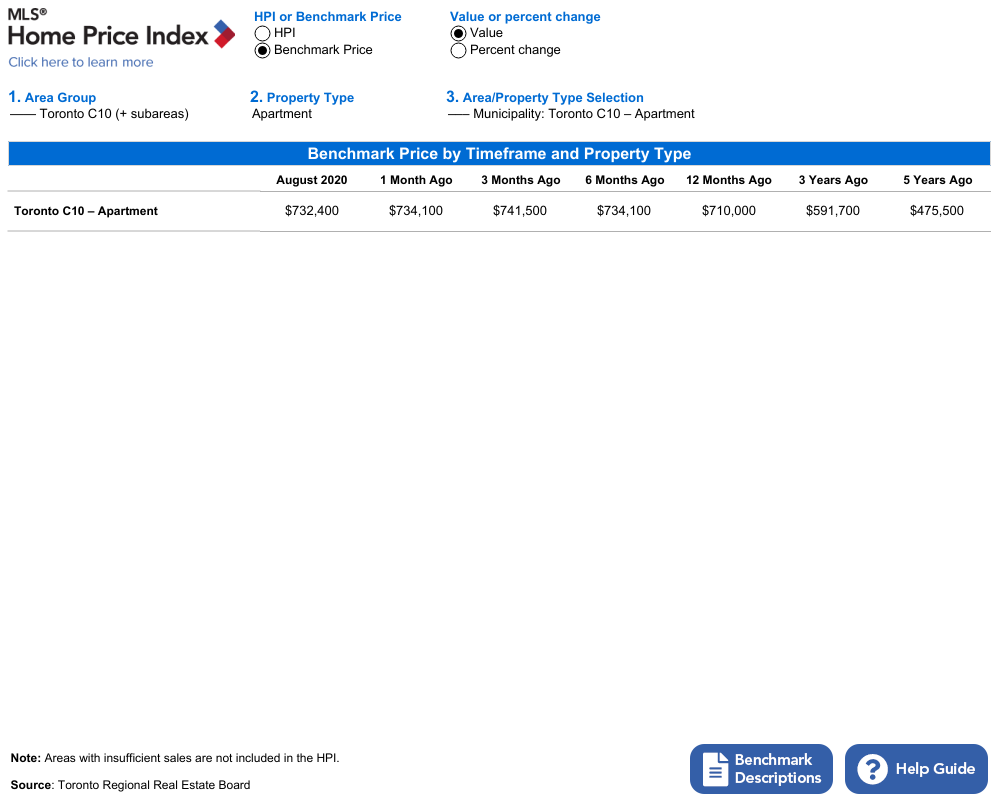 Comparison Benchmark Price Performance Over Time - Condominiums vs Houses
In this chart, we compare the performance of property types from the peak of April 2016 to August 2020.
Focusing on condominiums (apartment) we can see that the area has had a consistent and steady rise in home prices when compared to the more volatile price movements of townhomes, semi-detached, and detached houses.
Note that in April 2020, as the impact of Covid-19 measures took place and particularly the impact on condominiums we can see a gradual decline in price performance.
This also signals a sign that we should start to see an uptick in price-performance similar to homes as restrictions and measures are lifted in the condominium segment.
There has been a marked increase in supply (inventory) and days on market over the previous 6 months. As people become more comfortable with opening up their condominium doors to prospective buyers it is anticipated that inventory will continue to increase and buyer demand will continue.
The performance of condominiums in the area has proven to be a safe place with consistent growth, less volatility, greater affordability, and increased demand.
It also offers a hedge against a market correction. For example, should the market retreat by -10% and using the August 2020 benchmark price-performance index you can see that the value of a 2-storey detached home would fall by $177,000. In comparison, a condominium would fall by as little as $73,000K. In each case, the percentage doesn't change BUT the amount of wealth/equity does.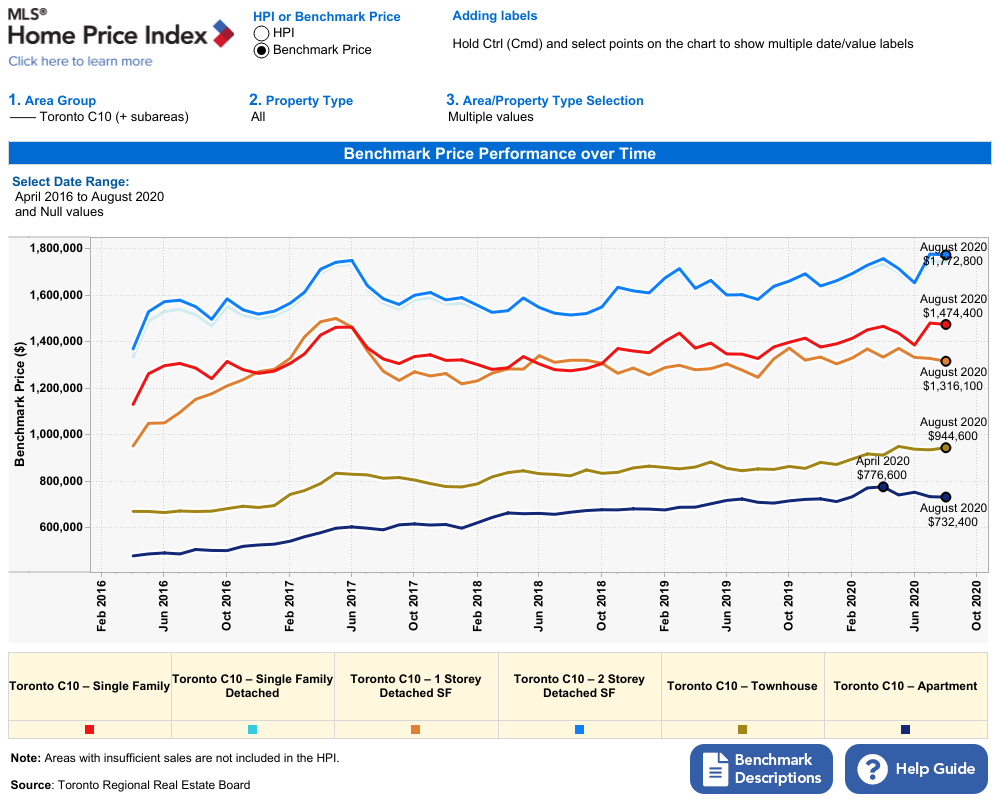 Condominium Benchmark Price Performance Over
Yonge & Eglinton condominiums have been a great opportunity for homeownership with providing a safe community to live and build your wealth.
A condominium purchased in January 2005 would have cost on average $238,800 and today the same purchase would be worth $732,400
Even during the peak of 2016 when home prices were at all-time highs the Yonge & Eglinton condominium market continued to increase in value while many other home types declined in price performance.
A detached home purchased in June 2017 likely is not going to be worth much more than the price-performance benchmark today. In comparison, the price performance of a condominium in the area has been much better.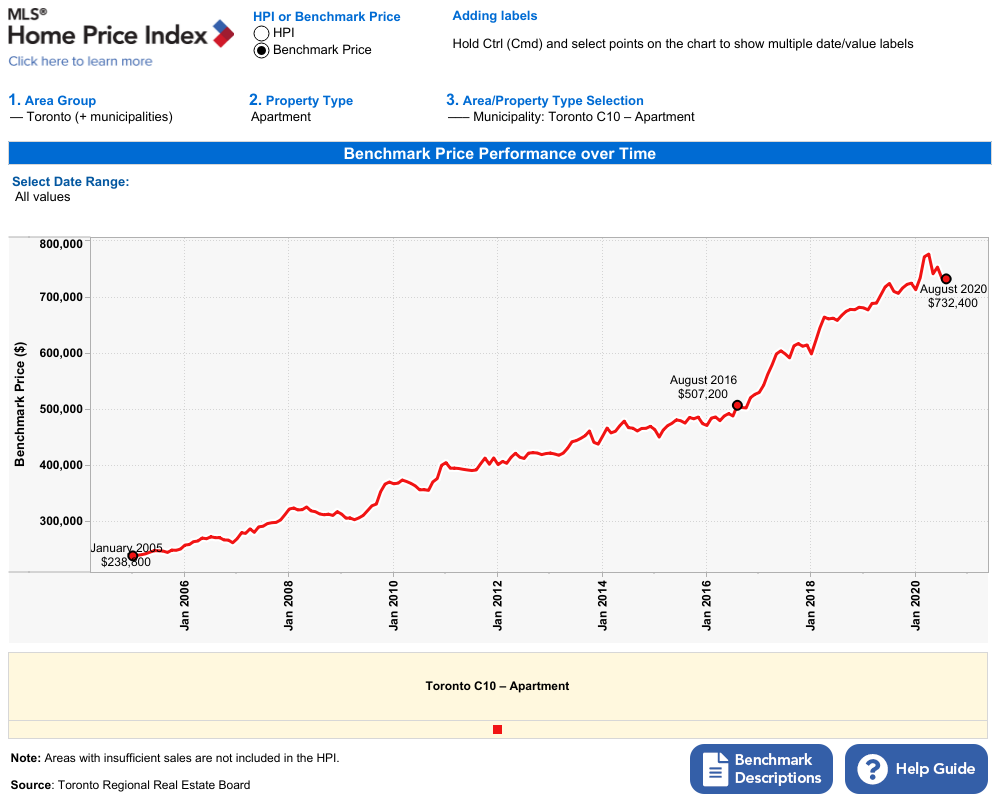 Should You Buy or Sell Right Now?
Working with a real estate agent you trust is one way to cut through the noise and understand how far your money will reach in real estate based on your situation and your needs. A good real estate agent acts as a trusted expert who can provide you with the facts, data, and insights that are most relevant to your selling or purchasing decision, so you can make an informed choice that you are comfortable with now and in the future.
There are many great reasons to buy right now. Some that come to mind immediately are with interest rates at historical lows, if you are able to buy and hold a home for the medium to long term, this might be a good time to buy. Typically as home prices fall interest rates rise. For someone wanting to purchase a condo if prices were to drop, it would have to be a significant amount to offset the overall impact of future mortgage rates rising. Sometimes waiting will cost a purchaser more money over time of ownership as mortgage interest rates rise.
If you are considering selling your condominium I do believe now is the time to exit. Interest rates are at historically low levels and with the near-term forecast, it is likely that buyers can take advantage of the lower interest rates and greater affordability. Demand is still outpacing supply. Average condo prices are back above levels 3 months ago. Price appreciation is expected to be slow and single-digit growth. Some will argue that the condo market might retreat and prices come down further. Be a seller in an ocean rather than a seller in a pond of thousands of sellers around you!

Want to know more about the buying process?
See My 8-Steps Process For Buyers

Have a condo you need to sell?
Get your condo's detailed comparative analysis complete with turnover rates, price heat maps, comparable sold properties, and much more to help you determine your condo's value